E-Web Cardiology and Ob-Gynegology Reporting System
E-Web Cardiology and Ob-Gynecology Reporting System is an intuitive reporting module that can be installed in any 2D Echo or Ob-Gynecology Ultrasound regardless of brand. A review of the brand and model of the 2D Echo/Ob-Gynecology Ultrasound machine is all that is required for our team to develop various intuitive reporting templates for automatic filling up of various discrete numeric values of patient undergoing the procedure.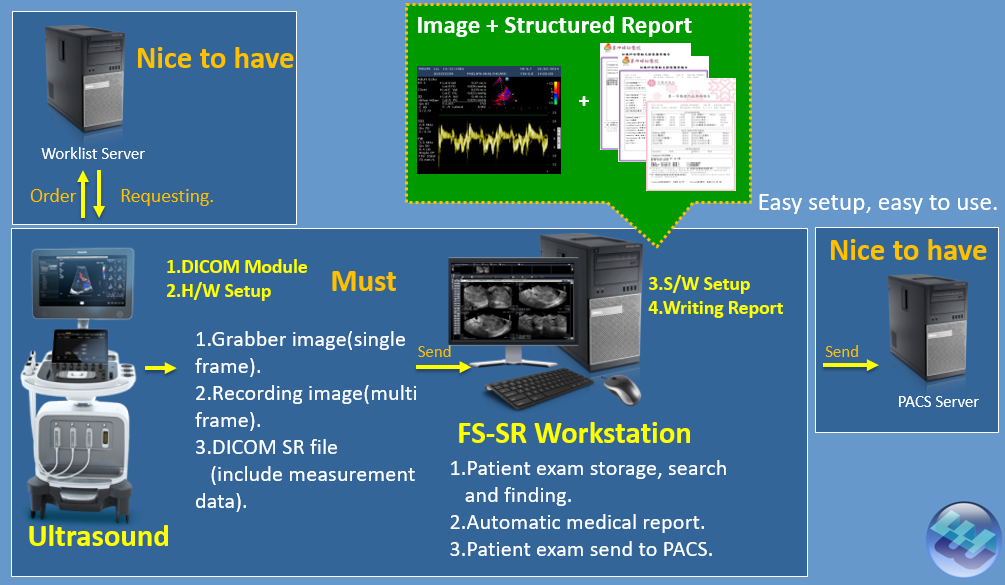 Software Features: 
Support receives ultrasound with DICOM image file and SR context analysis.
Support receives multiple DICOM file formats that including Single-Frame image, Multi-Frame image and DICOM SR(contain text and measurement value).
Automatic SR file format analysis and automatically fetch the text and measured value into SR customized report.
Provides users multiple reports function including customize report, report templates and report dictionary.
Provides patient exam quality control functions: creation exam, modification exam, restore checks and delete images; support manual input exam data and data checking by requesting worklist module(which in including).
List of Ultrasound Brand Reference