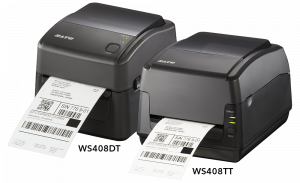 SATO WS4
The WS4 Printer Series is designed to be easy-to-use with flexible media capability and enhanced connectivity. 
It is highly versatile and suitable for desktop label applications across various regional markets and vertical segments
to maximise performance and return on investment.
Enhanced connectivity – WS4 provides numerous connectivity options including serial port (RS232C), 
LAN and USB. It also provides options to support WLAN and Bluetooth for convenient wireless interface
via smart devices.
Easy Maintenance  – With lesser internal parts and clear label path, users and load ribbons and labels easily. 
Users can also replace print head and platen roller effortlessly without any tools
for the DT model and only minimal tools for the TT model.
300m ribbon capacity – The TT model can hold a maximum of 300m ribbon thus reducing users' total cost of
ownership.
3 Color Status LED – WS4 has 3 color LED and 3 types of blink patterns to help operator easily identify 
printer status.
Flexible Label and Ribbon Support – WS4 supports both 1" and 1.5" label core and 1" and 0.5" ribbon core. 
I-mark sensor is also horizontally adjustable.
SATO CL4NX
The CL4NX is SATO's first truly universal printer engineered for the ultimate operator experience, and is skillfully crafted to support new and legacy printing applications across a wide array of verticals that would require a durable and dependable printer for years to come. Undoubtedly, it is the best industrial barcode printer SATO has ever developed.
Universal Connectivity – More standard connectivity options create easier integration into existing and expanding application environments
Advanced Ribbon Control – Additional ribbon guide roller and oversized ribbon wind spindle is synchronized with platen roller to help reduce ribbon wrinkle.      
Solid Construction – The CL4NX is built tough using a full cast aluminum frame providing better durability vs. bent frame and spot welded construction as seen on other leading competitive models.
Easy Media Access – Wide accessibility (60°) to media path allows for quick, effortless loading of media, print head and platen roller maintenance.
Label Dampener – LTDS controls the back-feed; wound in/wound out features, making most media CL4NX adaptable.