DISINFECTANT UV Smart D25
UV Smart D25
A new light on disinfection
Due to the lack of a consistent and controlled disinfection method, healthcare providers are nowadays assigned to manual methods with wipes and disinfectants. A high level disinfection cannot always be achieved with these methods. Therefore, the safety for patients and caregivers cannot be guaranteed.
Healthcare infections are the most common health care problem. Infections can be prevented if health care facility is used more hygienic way. Daily usage of medical instruments and equipment can expose to a high risk of spreading microorganisms. Material to material, material to person.
UV Smart D25 contributes to a safer healthcare environment in just 25 seconds. The Impelux ™ technology using UV-C ensures a validated, safe and user-friendly disinfection of medical instruments and equipment without the use of chemicals or liquid fills. It also stimulates optimal hand hygiene.
Medical items that can be disinfected includes:
N95 Respirators
Infusion Pump
Endoscopy Scopes
Mobile phones
Tablets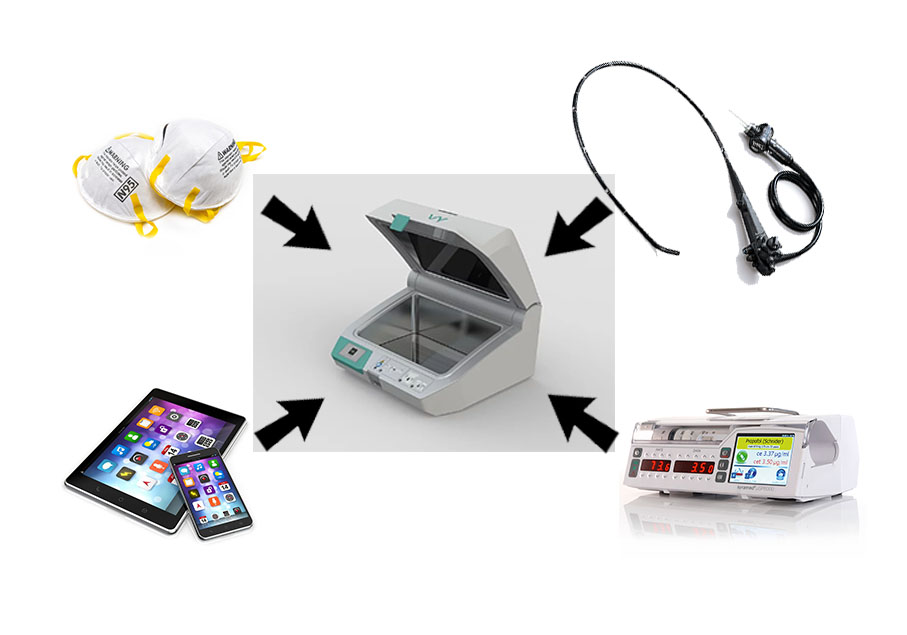 B. Coronavirus Clinical Results
Adeno Virus Clinical Report
Efficacy Study
CDC
Disinfection Method
UV sticker
B. Coronavirus Clinical Results
Adeno Virus Clinical Report
Efficacy Study
CDC
Disinfection Method
UV sticker